First of all, whether you refer to it as Navajo Jewelry or Dine' Jewelry, it makes up the majority of the Native American Indian Jewelry in the market place today. Most notably, the vast majority of the Navajo Nation is physically within the boundaries of the State of Arizona.
In the same fashion, 90% of the turquoise jewelry in our store is made by Navajo silversmiths. Most notably, we offer both jewelry by world famous silversmiths, as well as pieces with no hallmarks what-so-ever.
Equally important, collectors should realize that many of the oldest and most historically significant pieces have no hallmarks or signatures.   
---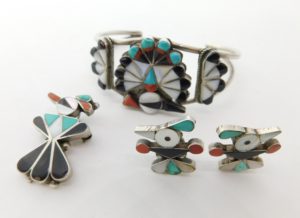 First of all, the Zuni are famous for both their inlay work, as well as their stonework with such patterns as needlepoint and petit point. Also, the Zuni make small stone fetishes. Most importantly, different artists have different specialties. For example, one Zuni artist may be known for dogs, while another may be known for fish.
---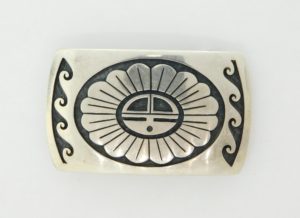 Also, Hopi are famous for their distinct overlay work. *One way to decipher Hopi from similar Navajo pieces, is that the Hopi typically add "dashes" inside the black areas.
---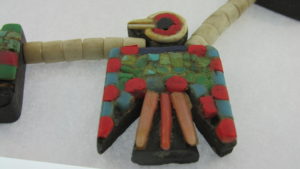 In contrast, the Santo Domingo tribe use cut stone with shell as a base. Most noteworthy, this piece uses the plastic from a car battery, as a foundation for which to inlay the stone. Also, sometimes the red in the thunderbird design is actually cut-up Dairy Queen spoon.
---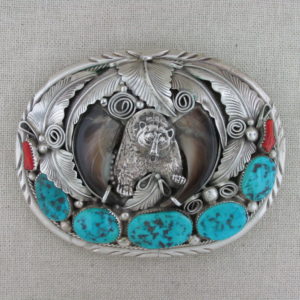 In comparison, Navajo jewelry is big and bold. Most notably, this piece has large leaf embellishments. These accents date this piece to the 1970's, which is the heyday for Native American Indian Jewelry. During the 1970's, demand is greater than supply. Most importantly, silversmiths use precast pieces to solder to their work, in order to speed up production. Chiefly, prior to this period, the silversmith would hand fabricate what they need. To see other examples of Navajo jewelry, please click HERE!
Navajo Jewelry 1990-2023 © Schannep Ventures L.L.C. ALL RIGHTS RESERVED